Best Dominican Cigar - Don Lucas A.L Series
Don Lucas A.L. Series is the fullest-bodied cigar by the brand. Designed for those that like to be pushed to the edge. Don Lucas AL Series handmade cigar is rich and robust with peppery flavors plus notes of an earthy taste. Avid premium cigar smokers will certainly enjoy the full flavors on this handcrafted and elegantly aged stick. 100% Dominican made with the best Dominican (ALF) or Connecticut Broadleaf Maduro (ALM) wrapper, Dominican binder, and Dominican filler tobaccos. Available in boxes of 10 or 15 parejo shaped cigars varying in size from the traditional corona to the modern, hefty big ring gauge 60. Grab yours today in the Maduro or Dominican Puro version.
Don Lucas A.L. Series creator, Mr. Philippe Gillet, visited the Dominican Republic for the first time in 1990, finding not only great weather and beautiful beaches but also some of the world's finest cigars! Settling in Punta Cana, far from where tobacco is grown but at the center of the Caribbean's most popular tourist destination, Don Lucas started making cigars with only two rollers. Don Lucas flourished in the market by producing "quality over quantity." Family owned and operated by Phillipe's son Gregory, responsible for limiting production to ensure the highest quality standards to create the best dominican cigars. Golf and Travel Magazine ranked Don Lucas in the top 12 cigars brands of the Dominican Republic. Buy yours now at Cigar Country before they are gone!
Blend Details
Product Type: Premium handmade cigars.
Unique Blend Attributes: The strongest blend in the line. Don Lucas AL Series is a full-bodied 100% Dominican Puro cigar. Also available in a Connecticut Broadleaf Maduro wrapper.
Strength Profile: Full-bodied.
Created in: 2007
Born in: Punta Cana
Made in: Dominican Republic
Master Blender: Gregory Gillet
Owners: Gillet Family
Vitolas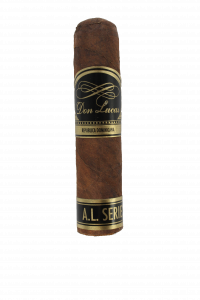 Short Robusto A.L.F.  50×5 1/2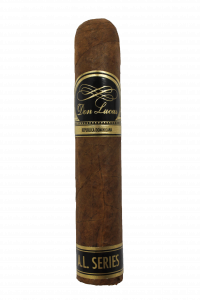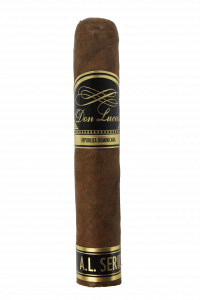 Robusto Gordo A.L.F.  60×5 1/4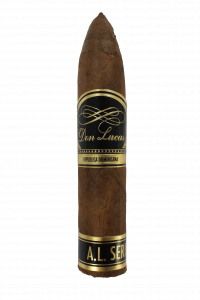 Short Belicoso A.L.F. 54×4 1/2